Die cutting is the process used to cut cardboard, plastic, foam and other materials. A die is usually constructed on a flat piece of hardwood and has precisely placed steel and rubber pieces that creates slits and scoring on the item being cut.
NOTE: We can make custom dies if we do not have what you need. The process takes about one week and the cost will vary based on the size of the box and the intricacy desired.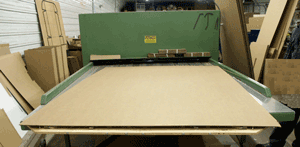 The die is placed on a cutting machine.
The corrugate is laid over the die and fed through the cutter.
The cuts and scoring are done.